Just this week, I've watched 2 movies. Due to the split shift my manager gave me. I have a 3 hour break. I don't have enough time to go back home, what can I do in Queensbay? Worse thing is, I have such shift for another 4 days this week, that is Tuesday, Wednesday, Thursday and Friday!!! Care to join me in Queensbay for a movie? xD
First one, was The Wedding Game.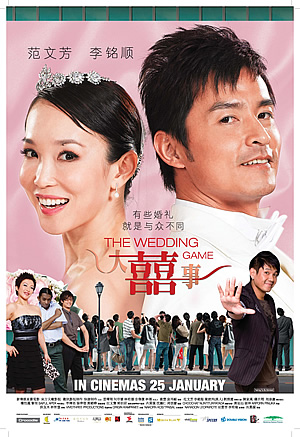 Manage to ask Janet out to watch it with me on Wednesday (11/2/2009). She've watch the movie, but watch it again just simply because she promised me. THANKS!!! 3 hours time is hard to pass in Queensbay you know? Especially if you don't like to shop.
Failed to ask anyone out on Thursday (12/2/2009)... So, I roamed around Queensbay looking for Valentine's Day set. I manage to found 2 restaurant that offers such package only. Swesens, RM99 per couple, TGI Friday, RM65++ and lastly Manhattan Fish Market. Starting 4pm, stopping by every shop to see every friend I had working at Queensbay. Stopped and talk to them each time. At 6pm, followed Chern Shyang and Alfred to break. Then only I went back to work at 7pm.
On Friday (13/2/2009), managed to get Cheen Yee to watch Valkyrie with me.
xD She doesn't even know what is that movie about. Thanks again..
And then on Saturday its Valentines Day... I guess that's all