No need to meet the teacher, no activities, no homework (but studies still remains). Most of all there are many events that I'm interested to go today. haiz... too bad i dunno know the ninja technique '
Kage bunshi no jutsu
'
If not I shall be able to make it to all these places. Places I would like to go:
~ School to record what the Lagger has to say to each parents
~ 爱心大厦义卖会
~ 圣心义卖会
~
USM science fair
(which I made it there)
~ Taekwondo tournament
I just can't believe they are so many events lately. For example:
~
KDU Technology fair
next tuesday and wednesday
~ SMK Bukit Jambul food fair 6/7/2008
~ Pu Ti food fair 29/6/2008
~ I'm the Survivor program (still can't get my hands on the application form yet!! ARGH.....)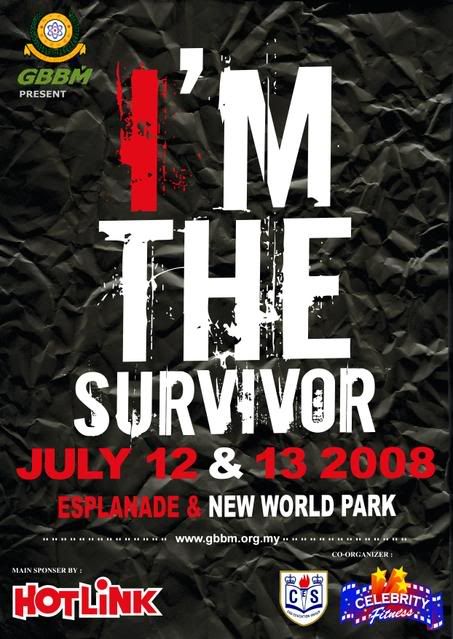 I'm definite got not enough time to study already. And I'm still going to 'activities'? What am I thinking?
I really don't feel like studying
! I need somebody that can control me, force me to study willingly, I need a gf!!! xD not advertising, just speaking out what I've been keeping to myself all the time.
Went to USM this noon from 3.30pm to 6pm, even tough the agreed time was 4pm, I made it at 3.30pm because my dad is busy later.
I was half an hour early
! Bo huat... Entered the
Muzium dan Pameran Tunku Fauziah
and looked everywhere of the place. But I felt something awkward.
There are no booths here!
It's a science fair right? I thought students are suppose to stand by their table presenting their project. Thinking of that, there are no students too. Am I in the wrong place? Went outside and take a look, my eyes definitely did not betrayed me. The spellings are identical. Went in, It's just like a museum, things behind glasses and descriptions of them. I'm feeling stupid by the moment. Went to the other end, guess what? I only saw stupid paintings. I was like regretting I still got 2 hours and I'm suppose to stare at paintings?
I hate art galleries
!!!
Then I see people going up the stairs, but those are children. Maybe there's a nursery up there? If its actually a nursery after I've gone up there, then I'm like KOed big ko ko is here. xD but standing here doesn't solve the mystery. So I went up the stairs. Thank god, I'm in the right place. Come to think of it, why didn't I just open my heavy mouth and ask? xD so stupid of me.
Walked around the booths, reading their reports. Then I saw an entry from my school. WTH?
It's last year's project
! The one done by form six students. I was like disappointed. Some projects done by other group are very simple and already exist and some are just impossible and a waste of money. Later, I went to check if Julin has arrived, that's when I met Mr. Chong there. Of all places... haiz... I guess it can't be helped if he is the teacher on duty to watch over our school's project member - Adam Wong Eu Heng. (A bigger surprise)
Talked to Mr. Chong about SPBT activities. Then Julin showed up, guess what? she called Mr. Chong uncle. xD I was laughing in my heart. He is only in his early 30s xD
She even thought that Mr. Chong is my dad
. But Julin is not the only person. Adam and the other guy from CLHS Butterworth too asked me the same question. Escaped from Mr. Chong and went upstairs with Julin.
I know she really looked forward to it and she planned to come on Friday but
postponed
her trip because I can't make it. Yet again, I never imagine she came loaded with '
bullets
'. She 'shot dead' all the exhibitors, except for the CLHS Butterworth's they responded to her every question with satisfying answers. But for the Al Mashor (Perempuan), the form 3 girls are totally beyond the dead. xD The exhibitors are presenting the project in a senior's place, naturally she did not even experienced the project herself. So she didn't know the process and the principle of the project. Besides the project was about 'Solar Oven', using convex lens to diverge the sunlight into the chamber to cook the food. Which is a form 4 syllabus. Julin asked every single details until both of the exhibitors are unable to answer. But I still pity the guys from MSRM, they were about to take their leave about 5.25pm. The exhibitor was not clear with his words and ended up in a confusion. The
teachers
were sitting by the side
waiting
for the 'customer' to leave. She totally have no knowledge about F1.
Actually she didn't asked question so that they will feel embarrassed. She asked so that she can understand the project better, during the process it'll definitely help the exhibitors to present better in the future. We ended up learning a lot of things today. Glad that I make it. Guess that's about it. =)