Today is Monday guys!!!! usually I'll have the Monday blues, but not today! Cause I finally got my hands on the 'I'm the Survivor' event!!!! muahahaha... At last the web page was not as useless at all. I contacted the webmaster I think... And requested the form.
As easy as that, they sent me the form just now! in just 2 days time!!! nice... And I'm just in time... Question is, will my dad allow me to go? that's another problem. FOr those who are having trouble finding the form for the event. Here are some particulars and the form:
Organized by: GBBM
Penang Branch
I'm the Survivor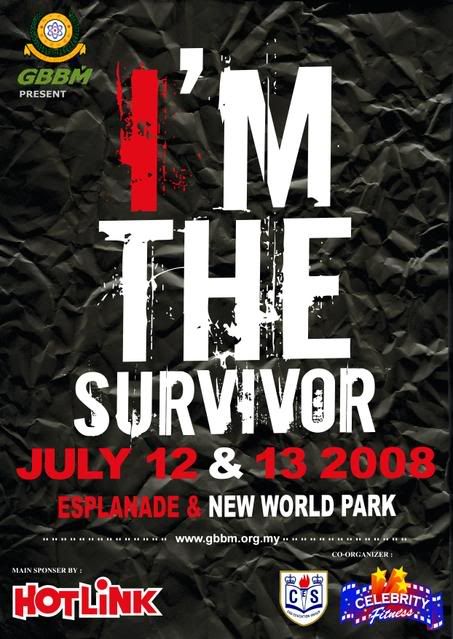 First day
(Preliminary Stage)
Date: 12 July 2008
Time: 7.00am to 4.30pm
Venue: Basketball Court, Esplanade, Penang
second day (Final Stage)
Date: 13 July 2008
Time: 8.00am to 8.00pm
Venue: New World Park, Penang
[Please click to enlarge and right click to save]
Another thing today I'm not blue is simply because I'm only attending one period tomorrow!!! muahahaha... will be walking around in KDU. hope to get many many pictures tomorrow!
The schedule for tomorrow:
KDU TECHNOLOGY WEEK 2008
24th June 2008


9am – 5pm
~ Computer Exhibition Fair 2008

~ KDU Students Project Exhibition & Competition

~ Secondary School Games Workshop!

~ Technology Talk

~ Information Technology Literacy Workshop




25th June 2008


9am – 5pm

~ Computer Exhibition Fair 2008

~ Secondary Schools Games Design Competition





26th June 2008


9am – 12noon
~ KDU Factory Visit
Source:
KDU webpage